Trip to Istebna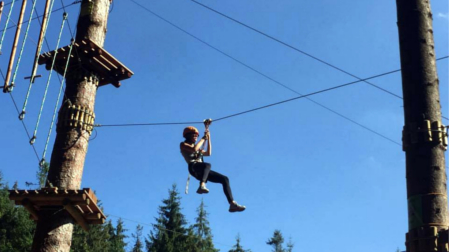 What a wonderful trip that was! Everything, including the weather, company and activities was cool!
Our adventure started at 8AM, by the school. All CP and IGCSE students, along with their tutors, hopped on the bus and, despite the early hour, one could only see smiling faces.
We reached Istebna about 10AM. Of course, the first thing which we needed to cope with was to answer the question - "who will I share the room with"? After solving this bothering issue, we went to participate in steeplechase and to have fun on a ropes course. Students who didn't have enough could also go swimming to a local aqua park. However exhausting it was, we still had enough strength to sing and play by a campfire :)
A huge adventure expected us the other day - a walk to the forest! We were supposed to find ten hidden checkpoints - they were really WELL HIDDEN - and so we marched through bushes, swamps, marshes... oh no, let's not exaggerate. It was just a nice walk, wasn't it? :)
Finally, we were invited to participate in integration games and barbecue in a huge playground situated in the heart of Istebna.
We came back full of brand new experience and with a strong sense of fun and adventure. Integration of Checkpoints, IGCSE and tutors – completed. We are really looking forward to spending so much time at school together - as a team, as a community. :)
BACK