Spring online workshops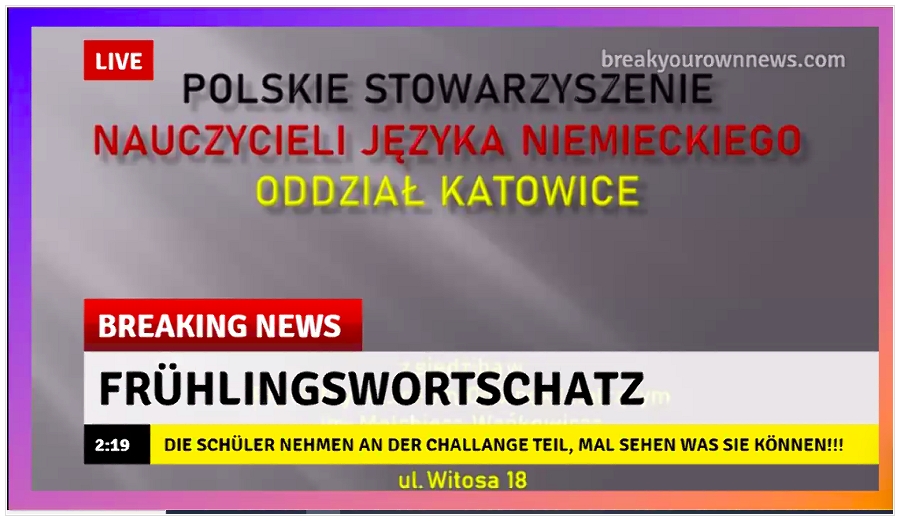 On April, 30, at the Melchior Wańkowicz Private High School in Katowice, where the headquarters of the Polish Association of German Teachers Katowice branch is located, SPRING HOSPITATIVE ONLINE WORKSHOPS were held in which 42 schools, as well as almost 200 students and teachers, took part. Thanks to our cooperation with the German Educational Society from Opole, similar workshops will also take place in May and June. Our project is addressed to primary school students (grades 6-8) and secondary schools, as well as German language teachers from the Silesian Voivodeship. It is based on an innovative method of hospitalization, which will include students and teachers. This form of cooperation is useful for expanding knowledge and sharing ideas. During the classes, students will actively participate in the classes, while teachers will hospitalize the classes. Each teacher will receive a certificate of participation in the project and a lesson plan which they will be able to carry out at their schools.
Engaging students in the current environment of remote education is a difficult challenge.This is even more difficult if, on the other side of the screen, students do not know or do not see each other. When planning these workshops, we wanted to base on the students' "Vorwissen". This could be pre-checked with the help of the mentimeter application. The subject matter was very favorable, because "Frühling" appears in the teacher material distribution from the first lesson. The attention of the students was first caught by the speaker 'Frühlingswortschatzliste', which contained over 60 words, among which many typical, well-known, and which are not used every day.
Emotions intensify the process of remembering and associating. That is why programs based on competition and challenges were used.
The first application known to some students was Quizlet, free for students and teachers, thanks to which the teacher can create specific sets with a resource of personalized vocabulary and provide students with specific tasks via a link, even if they do not have an account.
The second tool used in the workshop is https://www.baamboozle.com/ that allows the creation of learning kits, as well as team competition - even in the online version.
Another tool - https://kahoot.com/, recently more popular in schools, in puzzle version, which checks spelling, knowledge of phrases, is useful for vocabulary quizzes.
The last application allowed us to reach for popular board games. https://quizwhizzer.com/ allows you to create three types of questions and an interesting visualization of the game.
Students actively participated in the workshops and willingly expressed their opinions on individual tasks.
Thank you all for your participation and commitment and see you in May.
BACK