Online Workshops "Im Jahreskreis herum"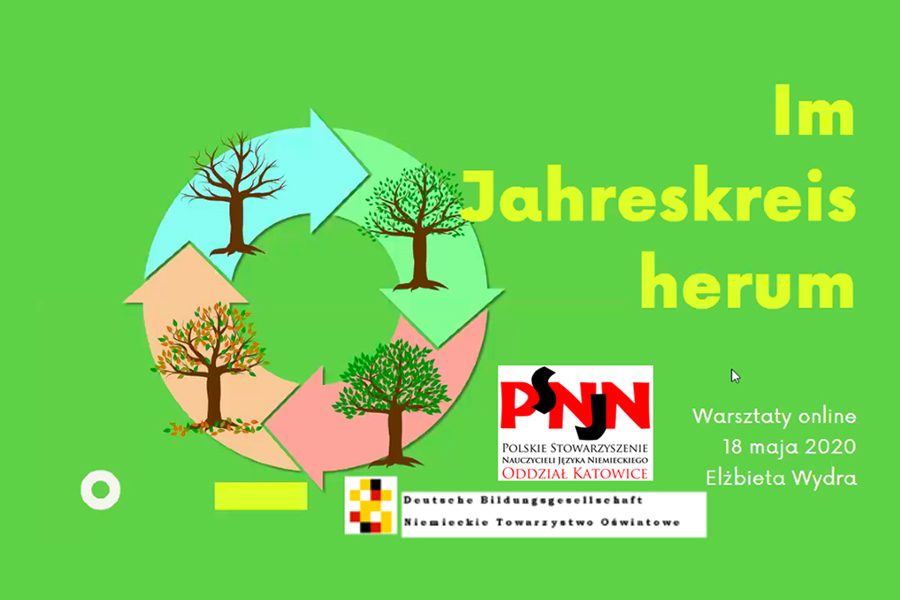 On May 18, at the Melchior Wańkowicz Private High School in Katowice, where the headquarters of the Polish Association of German Teachers, Katowice branch is located, HOSPITATIVE ONLINE WORKSHOPS "Im Jahreskreis herum" were held, in which 46 schools, over 200 students and teachers took part. Thanks to our cooperation with the German Educational Society from Opole, similar workshops already took place in April and we are planning another session in June. The project is addressed to primary school students (grades 6-8) and secondary schools, as well as German language teachers from the Silesian Voivodeship. It is based on an innovative method of hospitalization, in which students and teachers are included. This form of cooperation is conducive to expanding knowledge and sharing ideas. During classes, students actively participate in classes, while teachers observe the classes. Each teacher receives a certificate of participation in the project and a lesson plan which can be reused at their school.
The goal of this type of workshop is the next edition of online classes with an emphasis on student activation.
This time the topic concerns the calendar in general and skills, speaking skills, expressing, building oral expression based on the vocabulary already known mostly to participants. A further purpose of this type of classes is to arouse curiosity towards knowledge that goes beyond German, general knowledge. This time we reach up to our galaxy.
The first phase is "Kennenlernen", which is the motivation for introducing the group by "Sprecher - spokesperson" and here the most effective method is the so-called small talk, reliable in every situation. In addition, the whiteboard online application was used.
While using this tool, the workshop leader did an insight into the skills of Hörverstehen participants, which is also an introduction to the main task of the workshop - BINGO. One might think that this form of fun-task is only possible in the offline version. Fortunately, all generators are here to help. The teacher's patience is enough and everyone will find something for themselves, their students and, above all, their intended goals.
And finally the task related to word-formation, and more precisely the etymology of the names of weekdays and months. Someone could say it's boring. Well, it all depends on the form of the message.
Students actively participated in the workshops and willingly expressed their opinions on individual tasks.
Thank you all for your participation and commitment. Please visit us in May.
BACK