Diwali - Hindu festival of light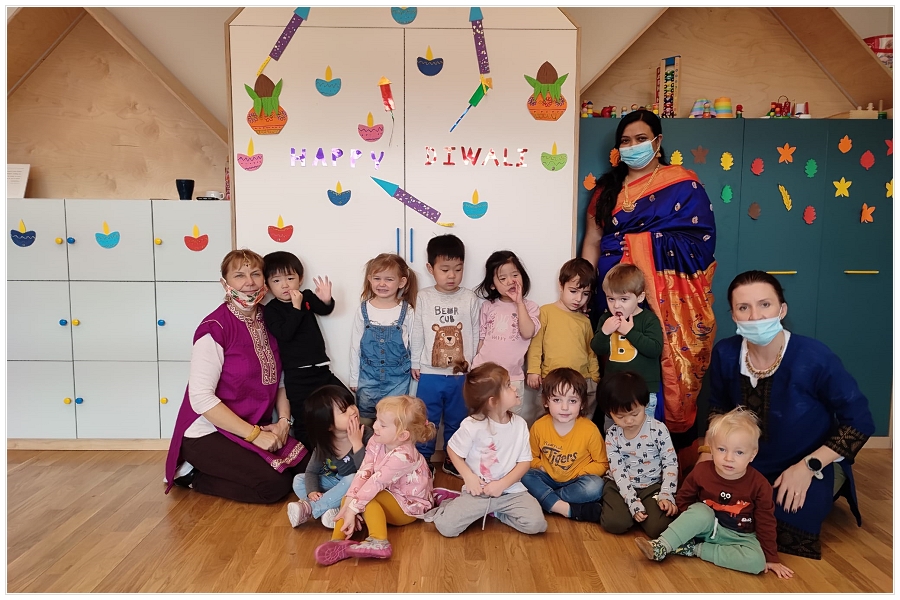 This year, the international kindergarten "Winnie the Pooh" celebrated the Hindu festival of light: DIWALI (or Dipawali), which literally means "row of lights" (dipa - "lamp", awali - "row"). This is a celebration dedicated to Lakshmi (goddess of happiness and prosperity) or in other regions of India: Lakshmi and Ganeshi (god of wisdom and cunning). In most Hindu houses, lights are flashing, and symmetrical compositions of colorful, small elements are created in front of the door - called "Rangoli".
Our native Hindu Mrs Jayanti prepared a number of interesting tasks for children, she brought original Indian costumes: "saris" and jewelry that women wear to celebrate Diwali. There were also snacks and talks about traditions and celebrations. Mrs Jayanti presented traditional oil lamps which are made of fired clay and lit them to welcome Lakshmi.
Preschoolers made "Rangoli" out of multi-colored rice, and decorated an elephant that alluded to the god Ganesha. The children had a day full of attractions filled with flashing lights and colorful decorations.
BACK