14th Extramural European Carol Competition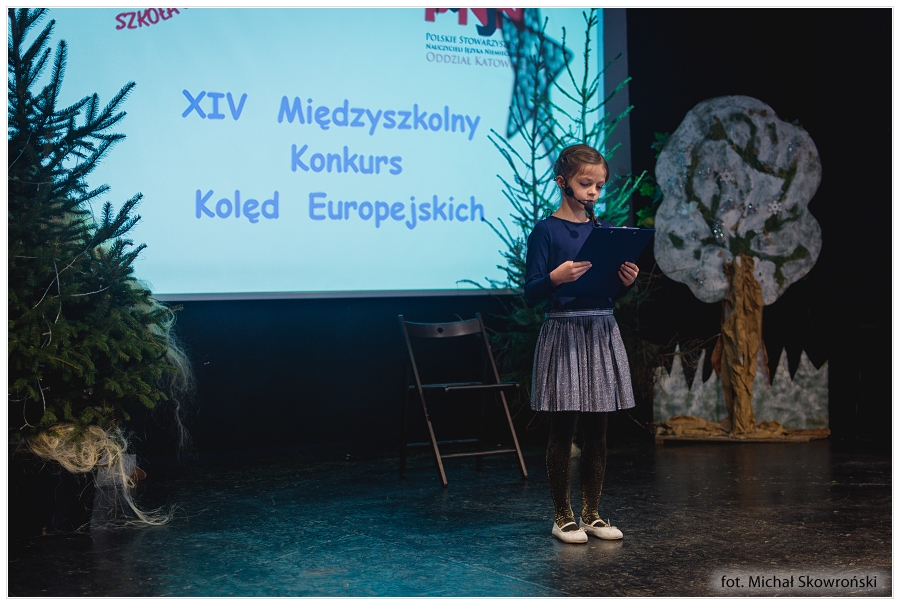 Traditionally, in January, our school hosted the Extramural European Carol Competition for elementary school students. Ms Barbara Czwartos, PhD from the Regional Teachers 'Training Center in Katowice, Ms. Dorota Szewczyk, Director of the Teachers' Training Center in Sosnowiec and Ms Joanna Leś, Teachers 'Consultant at the Teachers' Training Center in Sosnowiec honored us with their presence.
Students from 6 schools took part in the competition, singing songs in English, German and Spanish. Linguistic correctness, melody reproduction and general artistic impression were assessed. As every year, outside the competition, students from the Complex of International Schools and the band No Idea performed on stage and sang several Christmas songs.
Julia R. from the Kornel Makuszyński Primary School No. 33 in Bielsko-Biała won the competition in the 4-8 grades category. She sang the Spanish song "Mi Burrito Sabanero", while Julia K. from Complex of Silesian International Schools in Katowice won the second place, singing the song "Here we come a-caroling" in English. The third place was taken by Mariella S. from School and Preschool Complex No. 2 in Katowice with the English song "Rocking around the Christmas tree"
Congratulations to the winners and thank you to all participants of the competition for their presence and beautiful performance of carols, pastorals and holiday songs !!!
BACK